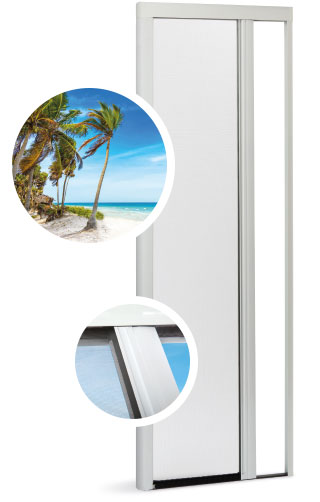 Which is the
most suitable Roller

for your home?

The family is made up by a basic 45mm version which is available in 4 different widths. These can be produced completely custom made or as semi-finished product as cut down KIT.
The Roller Cancún offers an alternative specially for places with low luminosity thanks to its plain mesh made of fiberglass. The system has a mechanism that allows an easy adjustment of the tension of mesh and therefore the doors' reverse according to customer wishes. In case of an accidental hit from a person or animal it has been designed in a way that the mesh will always recover its original position.
Soft and silent functioning and due to the fact that they are produced with one sole chain at the bottom, this is a barrier-free system without profile on the ground.

Our Insect Screens Roller Door
Insect screens Roller Door
Cancun 45 Basic
Field of application
The Roller Cancún is the ideal door for doors with widths up to 170 cm in one single door. There is also the possibility to install 2 doors with central closure duplicating its cover field up to 340 cm. The insect screens reaches up to a height of 2,60 metres.
Own System. Original and unique product with european patents.
Roller Cancún 45 Basic available as cut down version.
Insect Screens Features Roller Door Cancun 45 Basic
Top rail

Top rail with two brushes for a more hermetic closure in order to avoid climbing insects pass over the mesh

BLACK or GREY MESH

Fiberglass mesh by default in black colour. Optionally, grey mesh can be applied without additional costs

Steel Tape

Softer handling and reduces the loudness by a 50% during the movement

ANTI-FALL SYSTEM

New mechanism that avoids the screen from falling down when it comes out

Components

Components available in: black, white and beige RAL 9001

NEW BOTTOM RAIL

With anodized aluminium offers a better grip.